About the Practitioner – Emiko Okabe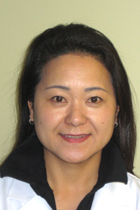 Emiko Okabe L.Ac. & Dipl.O.M.
After graduating from Meiji College of Oriental Medicine (the name changed to Acupuncture & Integrative Medicine College) in Berkeley, California with the degree of Master of Science in Oriental Medicine in 2001, Ms. Okabe worked at Village Acupuncture/Center for Optimum Health in Roseville, California as an associate acupuncturist, where she managed to see and treat up to 60 patients per day.  The high volume of patients was precious experience for her as the patients' medical conditions were so diverse, that she gained valuable knowledge on how to identify and treat various medical conditions through reading the meridians of the body.  Although a patient may come in for one ailment, some patients find they have improvement in another area they didn't even realize was an issue due to Ms. Okabe treating weak meridian points (or energy channels) of the body.
In October 2008, Ms. Okabe started her own acupuncture practice in Folsom, California.  In October 2009, she joined Revolutions Natural Medical Solutions, the largest naturopathic medical clinic in Northern California, who shares her passion for the well-being of their patients. Ms. Okabe's partnership with Revolutions Natural Medical Solutions enables her to provide the integration of Western and Eastern medicine to more fully effectuate treatment options for her patients.
Since 2000, Ms.Okabe has been studying directly under Dr. Masakazu Ikeda, an instructor & the President of the Academic Department of the Society of Traditional Japanese Medicine.  He has taught Traditional Japanese Acupuncture in Japan, Australia and the United States, and has also been a prolific writer as he has published 23 books.
She possesses both California and National Board certifications.
She is a member of the American Association of Acupuncture and Oriental Medicine.